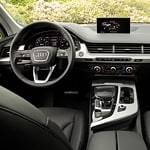 A midsize luxury SUV says a lot about the person who drives it. They are someone who enjoys the finer things in life and is always up to date with the latest in automotive technology.
That is why our team of experts at Audi Dallas want you to know all about the technology features in the new 2020 Audi Q7! The Q7 includes a virtual cockpit which displays your navigation tools like Google Maps right in the dash with incredible graphics on a screen more than 12 inches wide. Additionally, you'll want to check out the advanced sound system which includes 23 separate speakers which allows you to hear your favorite songs like never before.
Want to see the all new 2020 Audi Q7 up close and personal? Feel free to give us a call to schedule a test drive or simply stop on by to speak with one of our friendly sales associates today!