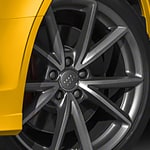 The S3 handles capably and is fun to drive, which is why the vehicle remains a favorite among luxury sports car owners. Although elegant and luxurious inside and out. Owners also enjoy a long list of technological features. But, all in all, the car was made to perform.
Under the hood, the S3 comes with a turbocharged 2.0-Liter four-cylinder engine. The motor generates up to 288 horsepower and is paired with a seven-speed automatic transmission. An overall low profile plus all-wheel drive ensures that each wheel receives the level of traction needed to adequately grip the road in all conditions.
The suspension is sport-tuned to provide excellent driving dynamics. The S3 takes corners like a champ. Acceleration is no less impressive. The car goes from zero to 60 mph in a mere 4.6 seconds. Make arrangements to treat yourself to a luxurious but powerful test drive at Audi Dallas.