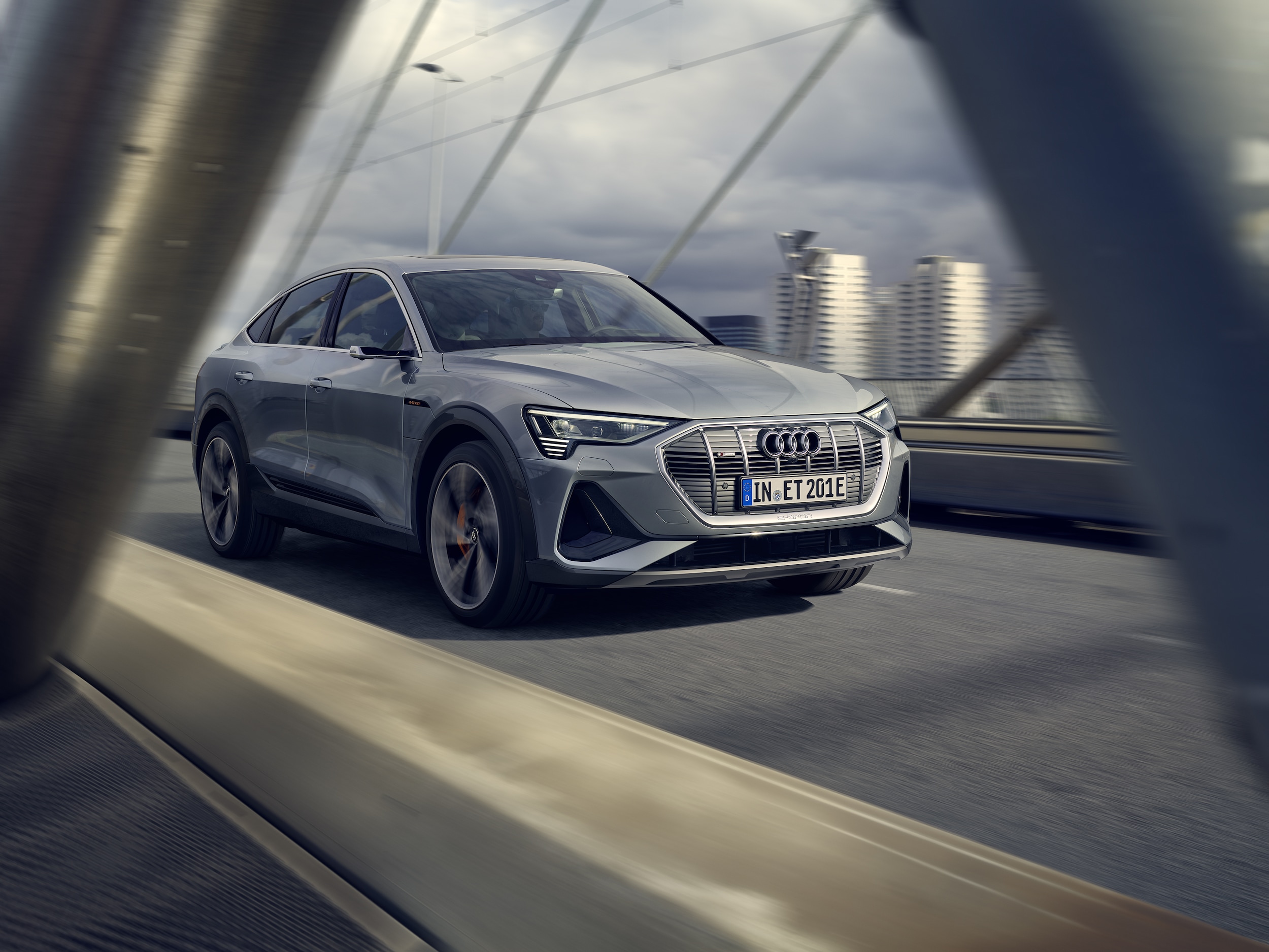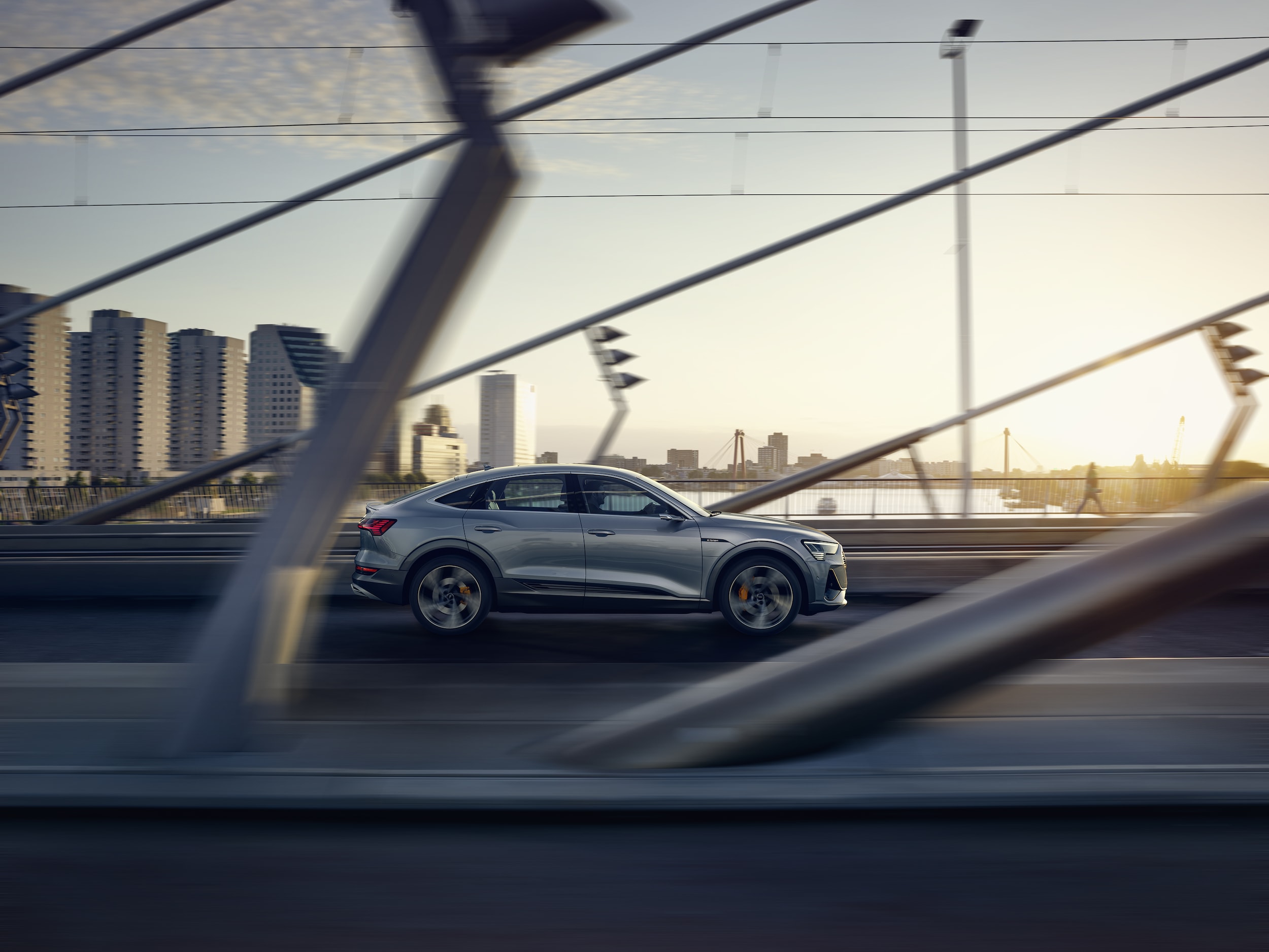 New Audi e-tron Sportback for Sale Near Dallas, TX
Why do drivers love the Audi e-tron Sportback? Most Audi drivers, across all model lines, tend to love their Audis, or at least admit to having a deep and abiding affection for them. As to the Audi e-tron Sportback, let us count the ways the car inspires such fondness.Beside all the sophisticated engineering features that go into every Audi model and so greatly enhance performance, efficiency, driver assistance, safety and every aspect of the driving experience, and beside all the further advantages of a fully-electric vehicle, it's the body of the e-tron Sportback that arouses such warm feelings, . in the way that it It manages to combine such the sleek elegance in of a 4-door coupe with the practicality of an SUV offering up to 54.5 cu.ft. of cargo space. All that in a vehicle with an estimated driving range of 218 miles, and a 5-star safety rating!
Inventory of e-tron Sportbacks at Audi Dallas
When you check out -- online or in person -- the inventory of e-tron Sportbacks at Audi Dallas you'll see the wide range of features, trim levels and colors available, inside and out, -from including the unmistakable look of Digital Matrix LED headlights, to an extra charging port on the passenger side, to and 18-way adjustable leather seats with ventilation and heated massage. Remember that Audi Dallas offers competitive pricing and the best inventory selection in the area.
Financing Your New e-tron Sportback with Audi Dallas
At Audi Dallas our financing and leasing specialists are right on-site and happy to put their expertise and resources to work to find the most advantageous loan or lease terms for you, including special financing through Audi's nationwide Affirm Service Financing program.  You may even choose to take advantage of Audi Dallas's Audi at Your Door service, which enables you to accomplish every aspect of car shopping from the comfort of your own home or office. We'll even bring a car to you for a test drive! Go ahead and get the process started right now, by starting your finance application online, or call us at 888-310-2759.
Servicing Your e-tron Sportback With Us 
It pays to have your Audi e-tron Sportback serviced where factory-trained technicians use only genuine Audi parts; that's what we offer at Audi Dallas. And our system is as sophisticated as the cars we service; for example, you can input your car's info and mileage online and receive specific maintenance recommendations. We also offer competitive pricing, special offers on service, Roadside Assistance and even remote servicing options. Schedule your needed service online, or call our Service Dept. at 888-457-8061.
For All Things Audi, Audi Dallas is Is Here for You
Anywhere in the Dallas, Lancaster and Irving area, or beyond, all your Audi wants and needs can be met -- now including Audi rentals! -- by the #1 Audi dealership in Texas: Audi Dallas! Call, click, or stop by today!