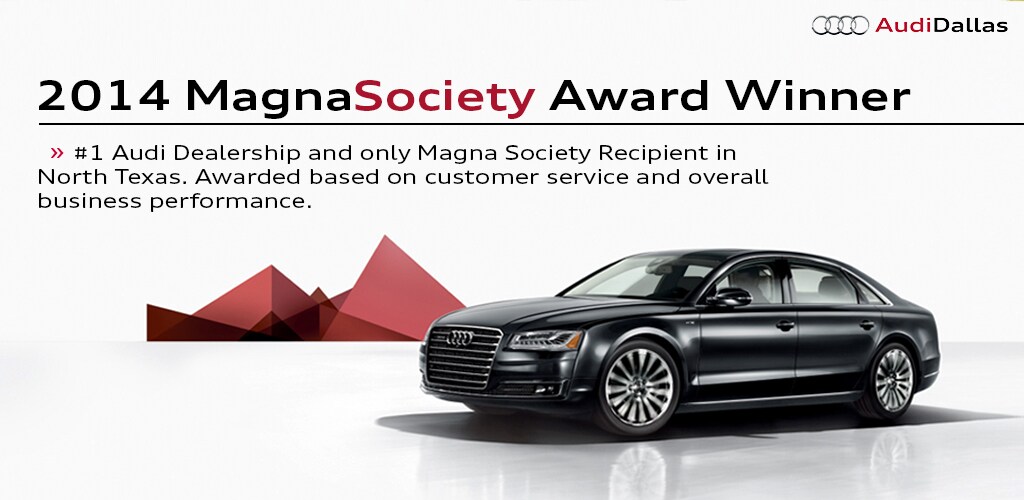 "I purchased my CPO Audi S5 from Artie Timin, and I couldn't be happier. This is my first Audi. Artie spent the time to go over all of the features and options, and helped me get comfortable with the car. It was the best experience I have had purchasing a vehicle, period. Recently I chose to go to an Audi dealership closer to my home to get my vehicle serviced. The experience had me doubting I made the right choice to buy an Audi. I drove my vehicle to Audi Dallas and any concerns I had were immediately resolved. I can't tell you how strongly that solidified my trust in this dealership. I would highly recommend them, and if you are buying a new car or have questions about an Audi, ask for Artie."
- Steve W. (Sept. 2016)

---
"Tony Shaw sold me a 2015 Q3 this past week, and he provided excellent customer care, following through on all things relating to what was important to me. Tony is a consummate individual, very knowledgeable of Audi products, and shares a very professional spirit. I recommend Tony Shaw to anyone looking to purchase a new or used vehicle at Audi Dallas. After purchasing many vehicles, these guys at Audi truly understand how the car business should operate, and I look forward to my next Audi visit."
- Dennis J.
---
"I had a great experience with Audi Dallas. I had contacted a few dealerships in the Texas/Louisiana area but few seemed willing to work with me. Audi Dallas went above and beyond to help me get my dream car. Chris [Arellano] was a great salesman to work with and made it very easy. They had to find the car I want and do most of the leg work over email and the phone but they made it all easy. When I came to pick up my new S4, it was a quick and easy process. I would definitely recommend them to friends and family or anyone looking for a new Audi!"
- Grant S.
---
"I absolutely LOVE Don [Lambrecht]!!!! He was absolutely amazing!! His knowledge of this product is unparalleled, it really made me want to purchase this car just based on the quality and safety...even before I drove it!! After the driving experience, I was sold!! Don made it so easy and pleasurable! He was personable and made us feel like part of the family!! Go DON!!!"

- Larry and Taylor T.